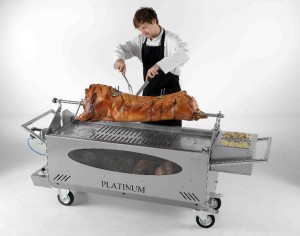 Look no further for a state of the art hog roaster for sale! We stock a range of professional hog roasting machines across the catering industry and are ready to help you 'perfect' your hog roasting set-up. With over 50 years in the field, we know exactly what you need to create a succulent hog roast and a wonderful cooking spectacle for your event guests. Due to increased demand for our equipment, we always have brand new hog roasters in stock and ready to ship.
Satisfying a large group of hungry guests can be tricky, whether at a business conference, wedding reception or birthday do – but a hog roast is a simple yet delicious alternative to finger buffets or formal set-menus. Who doesn't love the delights of juicy pulled pork, crackling and apple sauce in a fresh, floury bap. Designed by roasting experts, our machines can also be used to flawlessly slow-cook other meats and vegetables.
The Best Range Of Hog Roast Machines
So what is so special about our hog roasters? Well, our Platinum machine is one of the most sophisticated on the market! It combines two unique cooking areas and a slick and professional stainless steel exterior with exceptional mobility – heavy duty castor wheels are ideal for use at outdoor events. Dual gastronomes attached to the side of our Platinum machines mean while you're roasting you can prepare a variety of additional hot food products, like stuffing, gravy and soup too. Forget the food for a minute, our hog roasters are real show stoppers in themselves!
Want to give our hog roasters a test run? We also hire out roasting machines for short-term or long-term use; experience our hog roasting machines without the commitment of purchase. Get in touch with us today to find out more about our equipment and how it can benefit your business.