Are you looking for a reliable, multifunctional and visually impressive piece of kit for your catering business? You really can have all of this in just one machine if you invest in one of our cutting-edge hog roasters. Whether you are a specialist hog roast caterer yourself or simply looking to broaden your mobile catering business, we're sure that we will have the ideal hog roast machine for your needs.
Benefits of owning a hog roaster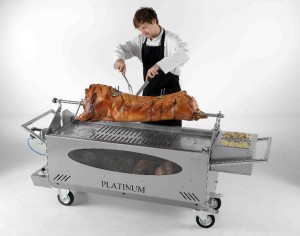 Whatever your niche, any professional event caterer is always on the lookout for mobile catering equipment that is easy to transport and set up, yields impressive results and offers the scope to prepare a high volume of food without being too labour intensive. This is exactly what you will get if you have your own hog roast machine at your disposal.
Large-scale outdoor catering is no easy feat when you have a crowd of hungry people to feed, and you want to deliver the same high standard of freshly made hot food from the first plate you serve to the last. A hog roaster will enable you to prepare a very large volume of food in one go and can be set up in any type of outdoor setting. Our hog roast machines don't need to be plugged into a fixed power source either, so you can rustle up a fantastic feast in the middle of a field without any problems, giving you the freedom to cater just about anywhere.
Why buy a hog roaster from us?
If you buy a hog roast machine from us, it comes with the assurance that you are investing in one of the most advanced pieces of hog roast catering equipment in the UK. All of our hog roasters are manufactured by us here at our UK workshop by a team who have the technical expertise and hog roast catering know-how to design and build the highest calibre of machines available in our field. Every component is made to the highest spec and every feature is designed with functionality and usability in mind. One of our hog roasters will enable you to provide juicy, perfectly cooked pork every time, with the option of preparing a range of other foods too, depending on which model you go for.
The perfect machine for your needs 
We offer a range of different hog roasters to choose from, with models to suit all types of mobile event catering requirements. Our hog roasters offer the ultimate flexibility in the volume and variety of food that you can prepare, and come with the option of various add-ons and attachments if you are looking for a single piece of equipment that can tick all of your catering boxes. This includes our classic spit roast model for perfect melt-in-the-mouth pork or multiple whole roasted chickens, our popular barbecue attachment for fantastic flame grilled feasts, and our hog roast extension kit that offers you the versatility to prepare a range of potato and vegetable side dishes at the same time as cooking a large joint of pork, beef or lamb.
Try before you buy
We offer short and long-term hog roaster hire options for anyone who wishes to try our fantastic equipment out for themselves before committing to buying a machine. This is the perfect way to get acquainted with our hog roast machines and will give you all of the reassurance you need to convince you that one of our hog roasters will be a truly indispensable piece of equipment for your own catering business!