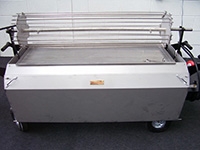 Another exciting accessory for our Platinum hog roaster for sale, the chicken spit offers a show stopping visual for whatever event you are catering. It can allow for cooking of up to 36 chickens at one time, which makes it easy to feed hundreds of guests with a traditional chicken roast. It can also be used to cook turkey, pork legs and beef joints in rotisserie style.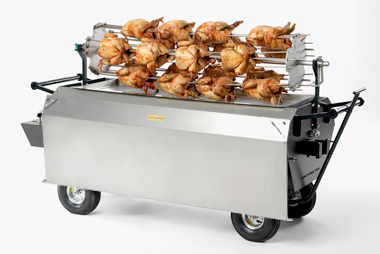 Our chicken spit set uses the spit kit pole, motor and carving tray alongside a multi-chicken rotisserie with 5 arms. It provides a really fascinating cooking show that can be viewed through the Platinum machine viewing panel. When they're ready to carve, you can raise the chickens up using the support bars. Each arm can then be removed one by one for maximum efficiency, leaving the dramatic rotisserie intact as you tackle one chicken at a time. The carving tray beneath will catch your carvings and keep them warm using the burners beneath.
To find out more about how to make the most out of our chicken spit page, give us a call today and we'll talk you through this brilliant accessory. We invite you to come and take a closer look at our products at our showroom too.