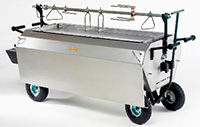 Celebrate a traditional and unique way of cooking with our brilliant spit roast kit, an ideal addition to our Platinum hog roaster for sale. A very popular accessory for our roasters, it will add instant drama to your catering set-up. A slow turning hog is a real sight to behold and sure to fascinate guests at even the most formal occasion. It uses a 240v motor to rotate a full hog or lamb. Get ready to see juices flow and skin crackle before your eyes.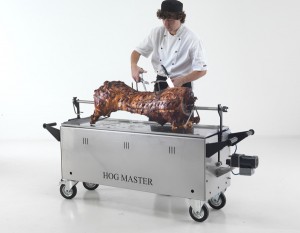 Our spit roast kits can take full pig weighing up to 80kgs – a huge hog! Monitor it as it cooks by peering through the viewing panel, which guests can also peek in, before raising it up to carve. It comes with a carving tray to slide beneath your pig when it's done and collect all the succulent meat that you cut off. This carving tray can be heated using thermostat controlled burners too, to keep everything hot before dishing up.
A spit roasting kit can really add a touch of excitement to your event atmosphere! Get in touch to discuss exactly how it can further benefit your catering company, hotel, venue or pub. We are here to help.